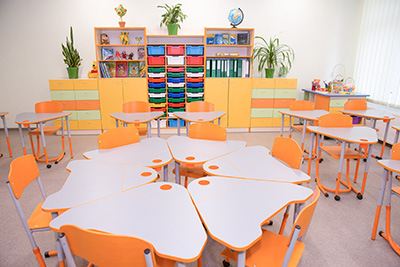 Kyiv Research and Production Enterprise "PROMIN" has been operating since 1990. The production base of the company consists of 2 powerful plants with a total production area of about 23,000 m2, which enables the production of the whole range of furniture for preschool and school educational institutions (including furniture for the "New Ukrainian School" concept) made from high-quality materials that undergo thorough checkout. However, the range of our products is not limited to the furniture for educational institutions, but also includes items for home and office: desks, chairs, classroom boards and flip charts.
The production plant is equipped with modern equipment, which in combination with highly skilled workers, engineers, design personnel and the latest technologies, provides possibilities for the production of a wide range of products with modern design and ensures that they meet the highest standards of quality and safety for furniture for all spheres of use. Consumer goods quality of the products produced by LLC "RPE "PROMIN " has been awarded with rewards and diplomas since 1999. All goods are the subject to quality control and safety of use and are accompanied by relevant documents stipulated by the legislation of Ukraine and international organizations on the results of its implementation. The products are certified by the State Committee for Technical Regulation and Consumer Policy of Ukraine (UkrSEPRO), have certificates of the State Sanitary and Epidemiological Service and are recommended for use at educational institutions by the Ministry of Education and Science of Ukraine. The production facilities have successfully passed through the inspection and received certificates for the quality management system of State Standard of Ukraine ISO 9001: 2015 and for the environmental management system of State Standard of Ukraine ISO 14001: 2015.
The quality, reliability and design of the products of LLC "RPE "PROMIN" have also been recognized outside Ukraine as the company's products are exported to European countries.